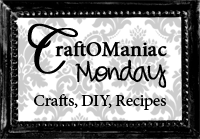 A while back my son asked me for bulletin boards in his room, but he wanted them red! When I bought the bulletin board, I was bummed to find that the frame was some fake wood grain tape and I was going to have a hard time painting them, so I got some red duct tape and "painted" them red.
I like the idea so much I did it with packaging tape for my daughter.
So naturally, when my husband came home with a new bulletin board for my office, I had to do it for me too!
I cut the corner tape at a 45 degree angle then I ran the tape to the other side. First I pushed the tape down on the front (the side that shows) of the board. Then I took a gift card and slid it under the molding to get the edge nice and clean and tucked away.
Finally, I pressed down the backside of the tape. The tape seems to be wide enough to completely cover the front, and side and it is a little short on the back, but no one sees that part!
If you want, you can get fancy on the corners, I just cut a wide V and laid it over the corner.
This works for picture frames too!
This week I am linking to:
Blue Cricket Design